Parts, Discontinued Parts & Replacements
Here are a few hints on parts that are no longer available through GM or that were replaced by better components. Make sure you also check my Aftermarket parts page.
Clutch Pedal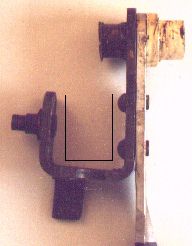 1984-1986 Fieros were equipped with an Aluminum clutch pedal that bent over time resulting in the clutch not fully disengaging and difficult shifting. The picture shows a bent clutch pedal, the indicated part should be square. The new pedal is P/N #10066423 and makes a world of difference. The clutch pedal spring is eliminated and a new Master Cylinder Push Rod (P/N 10126424 for 84-85 ONLY or P/N 10126423 for 86 ONLY) and retainer clip (P/N 10040797) must be installed as well!. If you don't get the new pushrod, at least get the proper new bushing to accomodate for the different diameter pin on the pedal. The P/N is 1409 4900 and the price is under $2.
If your clutch is still difficult to operate you may want to replace the clutch fork lever made of stamped steel with a strong cast iron replacement. The part numbers are:
10054118 1984 4cyl, 4-spd
10054300 1985-86 4cyl, 5-spd
10054119 1985-86 6cyl, 4-spd
Of course, don't forget to bleed your clutch system, trapped air is also a common cause for insufficient clutch travel.
Leather Shifter Knob
The manual transmission leather shifter knob is no longer available, but the knob from a 1987 Firebird fits and looks just like the original. The part number is 10126477 for a grey knob that is perfect and the cost is only about $50.
Door Hinge Pins
The door hinge pins are no longer available, but they are a generic GM item (Chevy S-10). The Part number of the replacement is 20043351 (about $2.50 each). The retainers and bushings are still available (P/N 2042 9500, under $1 each).
Emergency Flasher Button
The part of the emergency flasher button with the white inscription (Part number 2250 7977) has been discontinued. A replacement however is part number 1233 7964. The plastic is flat instead of shiny, but otherwise a direct replacement.
84-86 Headlight Relay
Although the Headlight Relay (part number 2205 9694) is still available, it can be replaced with the GM power antenna relay P/N 2213 8200 that can be found on various GM cars on junkyards everywhere. (Thanks to fellow listmember Butch Sims)
Oil Pressure Sensor Filler Plug
A common problem on A/C equipped V6 Fieros is the oil pressure gauge going berzerk. This is caused by water entering the oil pressure sensor through the vent hole in the plug. Installing a new sensor only cures the problem temporarily, because water will enter the plug again. To prevent this from occurring again GM recommends installing the oil pressure sensor filler plug P/N 1205 9168 in the hole that you see when you disconnect the plug from the sensor. This part costs less than a dollar. By the way, this problem does not occur on Fieros without A/C because the sensor is mounted horizontally on these vehicles, so water flows out of the vent hole and does not accumulate and enter the sensor. 85 GT's are also spared because the gauge is much slower than on Fieros with the extra gauge package. So the sensor goes bad on the 85's as well, you just don't notice it.
Oil Pressure Sensor Connector
If you're too late and your oil pressure sensor connector has rotten away, the original GM part number for the 84-87 oil pressure sensor connector is 1208 5529.
V6 Distributor Gear
The V6 distributor gear is said to be discontinued, but not so, the updated part number is 0198 5769, and it can be a cause for jumpy timing if worn (thanks to fellow listmember Rick Stewart).
V6 Harmonic Balancer
The V6 harmonic balancer/damper has been discontinued, but GM P/N 1408 5401 fits as well. The only drawback is that the timing marks are not in the right places. They are 60 degrees off, intended for an engine with the timing indicator on the other side of the block. So you either need to get the proper timing indicator (but setting engine timing will be near impossible, because the view will be obstructed), or you can do what I did: paint the existing marks black, and paint a new timing mark on the right spot.
Wiper Motor
Although not discontinued (to my knowledge), did you know that the wiper motor from a 91 Blazer fits perfectly, even the intermittent function works? (Thank to fellow listmember Rick).
Turn signal stalk with delay and cruise
This is probably one of the most common parts that break. It is the #1 cause for non-working cruise systems. Although this part is discontinued, GM makes a compatible cruise stalk with part number 2511 1290. It is flat black instead of shiny, but otherwise a direct replacement.

<!Subwoofer speaker P/N 1604 1072 > <!The original speaker is no longer available (NLA), but as fellow listmember> <! a href="mailto:fiero173cid@juno.com" Carlos A. Martinez /a pointed out> <!these part numbers should be compatible and > <!work with the enclosure: P/N # 1605 4454 and P/N # 1604 2824.>
Subwoofer enclosure
Patrick Maloney is said to make a great enclosure for 8" subwoofers that fit in the stock location. If you have any information as to his whereabouts, please let me know!
V6 Cold Start Switch
The Cold Start Switch GM Part# 1408 4318 is a Bosch part (0280 130 229) and you may be able to find it cheaper at an aftermarket store that carries Bosch parts than trying your friendly (yeah, right!) Pontiac dealer.
Combined white parking lights/amber turn signals
I have successfully installed combined white/amber lights on my 85GT, many Japanese imports from the early 80's will fit (Mazda, Nissan, Honda, etc.), and I used the ones from Nissan. The part numbers for the lenses are 26126-04B00 and 26121-04B00. I got the proper lamp assemblies from a junkyard for $10. The car was rumored to be be a 1982 Micra, but there was not much left of the car to identify...
On another car I used the white/amber lights from a Honda Jazz, unknown year. They fit even better than the ones from the Nissan, but the parking lights are 5W only instead of 10W on the Nissan.
Scratched side window glass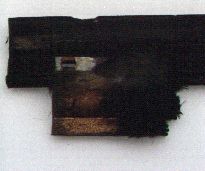 If you were wondering why your windows are scratched, you should get a new dew wipe! This is what happens: the pad that pushes on the window from the outside loses its padding, and the bare metal contacts the window, with the obvious results. If you don't want to buy new dew wipes, at least put some new padding on it so it doesn't scratch your windows anymore!
Oh, the part numbers are 2060 6220 for the driver side dew wipe and 2060 6221 for the passenger side dew wipe.
O2 Sensor
The Bosch O2 sensor part number 12014 fits the Fiero and supposedly works great. Thanks to Kai for this information.
---
Accumulator/Drier
The original part number 305 9313 has been superseded by 272 4666. This is for all 85-88 Fieros. But there are only a few of those left as well, so an aftermarket replacement for 1/2 to 3/4 the price is Factory Air/Four Seasons Part Number 33181 (available e.g. at Pep Boys for around $75).
---
Rear Quarter Windows and Decals
The notchback plastic rear quarter windows break on almost all 85-88 Fieros (the 84 had glass windows), and the original Pontiac parts are getting very expensive these days. Paul McKibben makes perfect reproduction rear quarter windows for the notchbacks not only with stock, but also with custom graphics. And the price is more than reasonable.
He also makes stock and custom Fiero decals, so check out his website by clicking here.
A place called Fiero Heaven offers aftermarket fastback rear quarter windows for $99. I would like to hear some comments about the quality and workmanship of these panels, so if you have seen one, please let me know!
---
Interior
Many interior parts that are subject to everyday wear and tear start to look torn and are no longer available through GM. This is especially true for the upholstery.
Enter Mr. Mike's Fiero Upholstery! Excellent quality Fiero upholstery kits at reasonable prices. Check him out!
---
If you know of other parts that are discontinued and know a replacement, please drop me a line!
---
And here a few commonly needed part numbers:
| | |
| --- | --- |
| Left emergency brake cable (84-87) | 1005 5393 |
| Right emergency brake cable (84-87) | 1005 5394 |
| Front emergency brake cable (84-87) | 1005 5395 |
| Hood/Door Ajar Switch | 2054 5277 |
| Door Ajar Switch Seal | 2005 7139 |
| Power Door Switch, LH | 2034 4292 |
| Power Door Switch, RH | 2034 4293 |
| Light Switch trimplate | 1002 1294 |
| Ash Tray | 1003 1793 |
| GT Hood emblem | 1003 6681 |
| Wiper blade | 1028 3455 |
There have been visitors to this site since May 31, 2000.